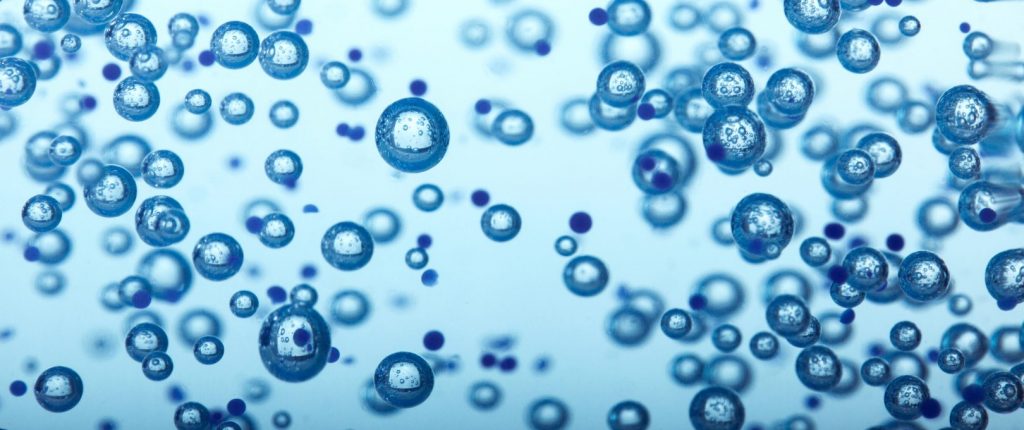 Knowing how to use hyaluronic acid to get the most from this seriously powerful ingredient can take your skincare routine to the next level – even more so when you're using a hyaluronic acid collagen formula as part of your regime. It's time to show your skin the love it deserves.
Hyaluronic acid (or HA as it's sometimes known) is the key to hydrated, flawless skin. It's one of *the* must-have skincare ingredients of the moment, and we can't recommend adding it to your beauty routine more. Read on to discover everything you need to know about hyaluronic acid skincare and how to use it to love your skin from within.
What Is Hyaluronic Acid? The Lowdown
So, what is hyaluronic acid? HA is what's known as a humectant, which means it's used to help prevent the loss of moisture in the skin. Hyaluronic acid acts as a magnet to help cells retain as much moisture as possible.
Amazingly, just one gram of hyaluronic acid has the ability to hold up to six litres of water. What's more, hyaluronic acid also helps to regulate the moisture within our skin cells so as not to drown them. That makes HA a genius ingredient for all of us who want smoother, plumper and happier skin.
Hyaluronic acid holds the power to give you smooth, beautiful, hydrated skin. In fact, our skin cells naturally produce some HA in a bid to maintain moisture levels and keep skin healthy and plump. But if you really want to show your skin some love, a hyaluronic acid collagen formula, like the one we've developed at SKINGLO.
What Is Hyaluronic Acid Made From?
It's natural to want to know exactly what you're putting into your body or onto your skin, so what is hyaluronic acid made from? Hyaluronic acid is a naturally occuring product that's the result of a plant fermentation process; to put it more simply, HA is formed from bacteria – but what magic bacteria they are! Keep reading to find out exactly how hyaluronic acid benefits your skin…
How Hyaluronic Acid Benefits Your Skin
Hyaluronic acid benefits your skin in several ways:
Adds extra moisture to your skin
Boosts the hydration of your skin
Leaves your skin looking and feeling softer and plumper
Hydrated skin looks younger and healthier, leaving you feeling like your best self
As we get older, the effects of ageing and environmental factors such as UV rays and pollution can combine to have a negative effect on the moisture levels within our skin. This can lead to fine lines, dullness, and uneven texture and tone. If this sounds familiar, or you simply want to prevent this from happening, it's time to love your skin from within and experience those hyaluronic acid benefits for yourself.
How To Apply Hyaluronic Acid
When it comes to how to use hyaluronic acid, incorporating it into your skincare routine (usually via your moisturiser) is usually the most common way to start benefiting from this amazing ingredient. But if you want to love your skin from within, we recommend taking HA as part of a supplement, like our hyaluronic acid collagen formula. Read on to find out more…
Hyaluronic Acid Skincare
Look for a moisturiser that contains HA to kickstart your hyaluronic acid skincare regime. Moisturiser should be applied twice daily – once in the morning and once before you go to bed at night – so you'll be seriously benefiting your skin with all of that wonderful moisture-preserving hyaluronic acid.
Hyaluronic Acid Supplements
While hyaluronic acid skincare is of course brilliant, HA works even better when it's taken as part of a supplement. Taking hyaluronic acid orally helps to stall the decline in your skin's natural HA levels by providing your body with more HA – it then distributes this around your body, including to your skin. There are several studies[1] showing how supplementing with it can make skin appear smoother, making this the ultimate way to love your skin from within.
Discover Our Hyaluronic Acid Collagen Formula
SKINGLO's marine collagen formula contains added hyaluronic acid to help you love your skin from within thanks to a double whammy of collagen and HA. Our hyaluronic acid collagen formula is available in Collagen Drink Rose Gold or Collagen Drink Charcoal options, so you can find a liquid supplement that compliments your vibe and looks perfect on your dressing table/kitchen worktop.
We added hyaluronic acid to SKINGLO because we wanted to help increase hydration in the skin, as we know hydrated skin looks younger and feels softer and plumper. Give your skin some TLC with an amazing boost of moisture alongside our hydrolysed marine collagen to keep skin smooth and plump and blend away fine lines and wrinkles.
Try our hyaluronic acid collagen formula today – shop our full collection of liquid collagen supplements today.