Caring for your skin from within
You wear your skin every day – let us help you to take care of it.
External factors all contribute to the appearance of our skin; from make-up and sun exposure to stress and air pollution, our skin is slowly losing its vitality year by year. Whether you're suffering from a tired, dull complexion, or are worried about the appearance of fine lines and wrinkles, problems with our skin can negatively impact everyday life and often prevent you from feeling your best.
What Is Collagen Good For?
From our early 20's, we start to lose the key ingredient to a youthful complexion – Collagen. Collagen is responsible for keeping our skin smooth, fresh and plump, as well as keeping our hair and nails strong and healthy. It's the main structural protein in various connective tissues throughout our entire bodies, and therefore a fundamental building block. Collagen derives from the Greek word, kólla, which means "glue". It's the most abundant protein that can be found in mammals, making up from 25% to 35% of the protein content in the body.
The secret to a better complexion is to unlock what our bodies need to naturally revive the skin from within – that's where SkinGlo comes in. From Nutrivitality, the experts behind some of the most innovative supplements in the world comes their newest addition that has the nutrients you need to regenerate cells, improving your skin's vitality. SkinGlo contains the highest quality hydrolysed Marine Collagen to strengthen skin, keeping it supple, glowing and firm. We chose Marine Collagen because it is more easily digested, better absorbed by the body, and has an overall low allergy potential. B Vitamins contribute to a clearer, more radiant complexion, while Hyaluronic Acid helps to balance dry and oily skin types. We also included Folic Acid to further aid skin firmness.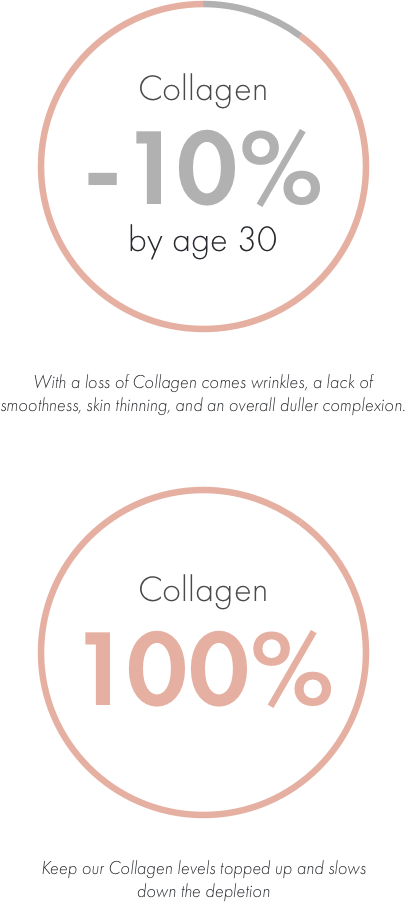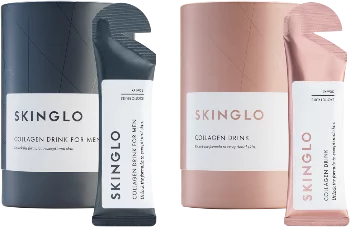 About Us
Coming from the labs at Nutrivitality, SKINGLO was created because conventional Collagen supplements were lacking the technology to make them work efficiently. Nutrivitality leads the way in world-class supplements with their invention of NutriProtect Technology, which uses liposomes to protect vitamins & nutrients on their way to your bloodstream. This allows for maximum absorption of vitamins and nutrients compared to other supplements on the market. SKINGLO contains this ground-breaking technology, ensuring you're getting the most effective anti-ageing skincare supplement available.
The Story
Nutrivitality is a family-run company and was born out of a family illness, which led us to question the current supplement products on the market.
One day our Director's mother developed a sudden and strong urge for iceberg lettuce. She began eating 2 a day and would eat them over the sink cutting large chunks out like you might a watermelon, without even reaching for a plate.
When she later became diagnosed with cancer, it became apparent her strange lettuce craving was her bodies way of trying to fight it. We discovered that lettuce contains a chemical called Sulforaphane, which has been research as an anti-cancer substance. Her body seemed to know it needed this chemical to fight the illness, so it was creating a subconscious craving for it.